T h o m a s J . T o b i n
Faculty developer. Professional consultant. Author and international speaker on quality in distance education.

Canadian friends, let's work together.
---
Forthcoming: See where I'll be speaking next, and what research I am working on now.
---
Speaking Brochure [PDF]: I am an author, speaker, and consultant on quality measures in higher education: Universal Design for Learning (UDL), evaluating online teaching, copyright, and academic integrity. This brochure outlines keynotes, presentations, and workshops I can offer your campus.
---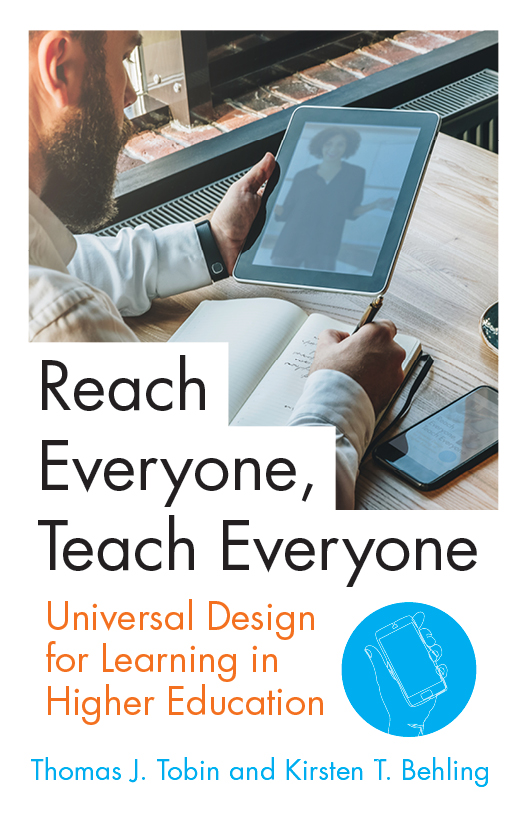 ORDER THE NEW BOOK!: Universal Design for Learning (UDL) is a framework grounded in the neuroscience of why, what, and how people learn.

In Reach Everyone, Teach Everyone: Universal Design for Learning in Higher Education (West Virginia University Press, 2018), Kirsten Behling and I show that, although it is often associated with students with disabilities, UDL can be profitably broadened toward a larger ease-of-use and general diversity framework.

Reach Everyone, Teach Everyone is aimed at faculty members, faculty-service staff, disability support providers, student-service staff, campus leaders, and graduate students who want to strengthen the engagement, interaction, and performance of all college students. It includes resources for readers who want to become UDL experts and advocates: real-world case studies, active-learning techniques, UDL coaching skills, micro- and macro-level UDL-adoption guidance, and use-them-now resources.

Plus, get 25% off the paperback price with a special discount code [PDF]!
---
GET THE COMIC BOOK!: The Copyright Ninja: Rise of the Ninja (St. Aubin Comics, 2017) tells the story of Bill Ullswater, a university lawyer who has to say "it depends" in various ways when his faculty and administrative colleagues ask him copyright questions. Ullswater is frustrated because he knows simple, easy-to-remember-and-use ways to think about copyright in higher education, but he cannot share them in his role as a lawyer.

One evening, at martial arts practice, he learns about nindō (secretly serving others), and the Copyright Ninja is born. In delivering special packets of information to his colleagues, the Copyright Ninja must evade the night janitor, security cameras, and barking dogs.

Will he be unmasked? Will his colleagues keep his secret? Find out in this new comic book for faculty members, librarians, staff members, and leaders in colleges and universities in the United States and Canada.

Check out a sample page from the comic book [JPG], and order your copies today!

U.S. Orders | Canada Orders
---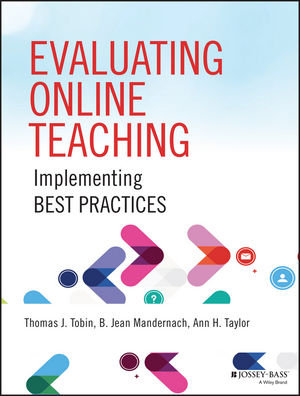 THE BOOK THAT STARTED IT ALL!: Evaluating Online Teaching: Implementing Best Practices (Jossey-Bass, 2015) is the first comprehensive book to outline strategies for effectively measuring the quality of online teaching, providing the tools and guidance that faculty members and administrators need.

My co-authors and I provide practical solutions geared to address challenges and foster effective, efficient evaluations of online teaching. You get rubrics, forms, and worksheets that you can customize to fit the needs of your unique institution.

Save 25% with the code on the promo flyer [PDF]; if the book is useful for you, let me know, and tell your colleagues!
---
Professional Presentations: I speak and consult on ways to provide access to higher education for the widest range of learners, and how to ensure quality in our curricula, courses, and classrooms--especially online. See videos, session evaluations, and testimonials from satisfied clients!
Professional Publications: My research focuses on issues of quality in higher education: evaluating online teaching, serving learners with disabilities, academic-integrity challenges, copyright in online education, and distance-education program design.
---
---
Employment: administrative, teaching, information-technology, and library experience.
Education: degrees, professional certifications, and continuing studies in higher-education administration, information science, English, and project management.
---
Scholarly Publications: original case studies, bibliographies, surveys, and analytical research in Victorian art and literature.
Scholarly Presentations: bibliographic and historical analyses of the nineteenth-century Pre-Raphaelite artistic and literary movement, along with other related topics.
---
---
Voice-Over: voice acting for educational, corporate, and commercial projects.
Community Service: contributions to academic and public service.
Professional Skills and Experience: library, management, online instructional design, health-care administration, voice-over talent, and language skills.
Memberships & Service: scholarly and community advocacy.
---
Philosophy: my scholarly and professional mission of service.
References: contact my current and former colleagues.
---
---
Résumé [Rich Text]: this document highlights my experience as a distance-education program administrator, librarian, health-insurance-industry professional, and English professor.

Full Curriculum Vitae [Rich Text]: this entire site in one document: all of my education, publication, and work experience. This document includes webmaster duties, creative publications, performances, and art exhibitions not listed here in the online version; it also details complete work experience not directly relevant to academic or professional positions.

---

---
HOME · EMPLOYMENT · EDUCATION · PROFESSIONAL PUBLICATIONS
SCHOLARLY PUBLICATIONS · PROFESSIONAL PRESENTATIONS · PROFESSIONAL SERVICE
SCHOLARLY PRESENTATIONS · VOICE-OVER · SERVICE · SKILLS
MEMBERSHIPS · PHILOSOPHY · REFERENCES · RÉSUMÉ · FULL C.V.

Last update 22 January 2019. © 2001-2019 Thomas J. Tobin.
Site content shared under a Creative Commons BY-NC-SA 4.0 license.